My second grader has been struggling a bit with long vowels. He just needs more time and practice to help him decode without having to stop and think about each word. So when I was asked to review a language arts curriculum from Eclectic Foundations, I was thrilled! After reviewing the scope of each of their three levels, I knew that the Eclectic Foundations Language Arts Level B would be a great fit for him!
While digital products are available, I asked to review the printed versions. These books kept me from having to stop and print, which was a huge time saver for me. McGuffey readers play an essential role in the phonics portion of this language arts curriculum. Having a printed out version of the book was a nice bonus!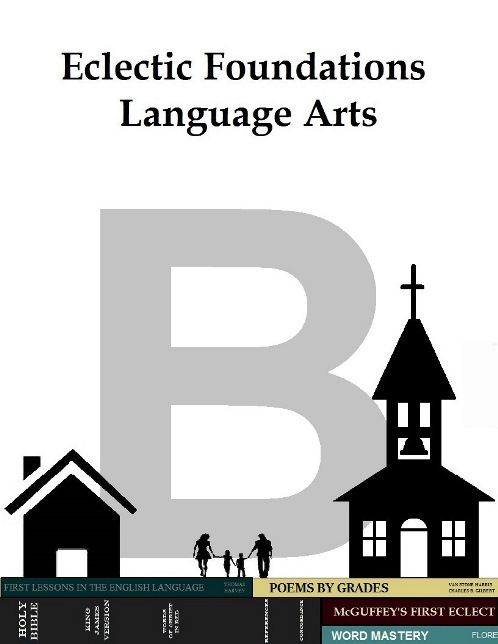 What's Included in Level B
When the box arrived, I eagerly opened it. Here's what was included:
A spiral-bound Teacher's Guide
A spiral-bound consumable Student Workbook
Spiral-bound, laminated Phonics Practice Sheets, for use with a dry-erase marker (not included)
Word cards printed on card stock
And as a bonus, a spiral-bound copy of the McGuffey reader
What Is Covered in this Language Arts Curriculum?
Each lesson of Level B covers the following components of language arts:
Phonics
McGuffey Work
Grammar
Handwriting
Poetry
How We Used Eclectic Foundations Level B
I worked one on one with my second grader with this curriculum. Each day, we completed one lesson. It typically took about twenty minutes to work through.
Each lesson starts with the McGuffey reader work. Jeffrey really appreciated how easy the first few pages were. It was a great review, and a good way for him to have success with reading. That's a huge component of being confident, and moving on in your ability!
Then, we moved onto phonics. This was Jeffrey's favorite part, because he got to use a dry erase marker. The laminated phonics practice sheets were fun.

The first two weeks of lessons covered silent e words. Since these are words that are a struggle, we just kept practicing. To gain additional practice, we played some of our favorite silent e games.
Other areas of focus for phonics lessons were:
Blends
Silent letters
Plurals
y
Long vowel patterns
Though we haven't yet made it through all the lessons, I'm happy with the scope and sequence. As a former teacher with a master's degree in elementary reading and literacy, I know the importance of building a solid phonetic foundation. I know working through these lessons will help my son bolster his crumbly foundation and gain more confidence in his decoding ability.
After phonics each day came handwriting. The lessons included cursive letters, but I am waiting on cursive instruction until grade three. So, I just had my student practice writing manuscript letters.
That's one of the best parts about homeschooling–you don't have to be a slave to your curriculum. You make it work for you instead of you working for it!
Poetry
Poetry was a fun addition, though I didn't really personally care for some of the selections in this curriculum. They weren't bad poems by any stretch, but just not ones that I would have included.
Jeffrey enjoyed drawing pictures to illustrate the poems, and the instruction helped him practice rhyming words again.
Grammar
The grammar piece is one we didn't emphasize too much. I have never spent a ton of time on formal grammar in the early years.
But, I used the lessons as a guide for us to talk about what letters, words, and sentences are. We discussed parts of speech, and what is needed to make a complete sentence. I had Jeffrey color code the McGuffey word cards by part of speech as directed, and he was picking up on it fairly well.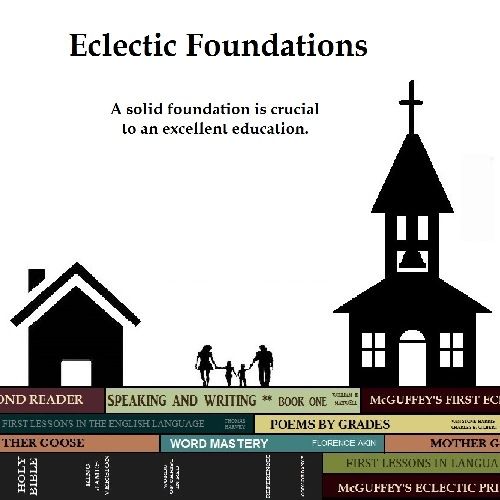 My Thoughts on Level B
I really like the material covered in Eclectic Foundations Level B. It is a solid curriculum that covers all essential components of language arts.
However, the lessons as is were a bit boring for my active second grader. He loved the hands on writing with the dry erase, but easily grew bored with the other parts of the lesson. I supplemented with games whenever I could, using the phonics words as a springboard for ideas.
We wrote them on index cards and spread them around the house to find. He jumped on them, reading each one as he did.
I know that some students do very well with workbooks and sitting. It's how all instruction used to be provided. This old-fashioned language arts curriculum is taken straight from the days of way-back-when. Many families are looking for just that, and will use the curriculum exactly as written.
For you, there will be virtually no prep work involved. Everything you need is included and scripted for you. Just open up the books to each day's lessons and work through the material.
But, if you're like me and always tweaking and wanting to play games, you'll have a bit more work to do.
I would recommend this curriculum as a solid starting point. It's helped Jeffrey improve his reading skills, even if he was bored in the process. And, because it's helped, we are going to continue working through lessons. Because being a strong reader is important!
Do you remember the McGuffey Readers?
Did you use these old-fashioned readers? I'd love to hear your memories of them in the comments.