My little Ellie likes horses, and books. She was so excited when we received the new Circle C Stepping Stones books Andi Saddles Up and Andi Under the Big Top by Susan K. Marlow. Kregel Publications published these wholesome books for kids.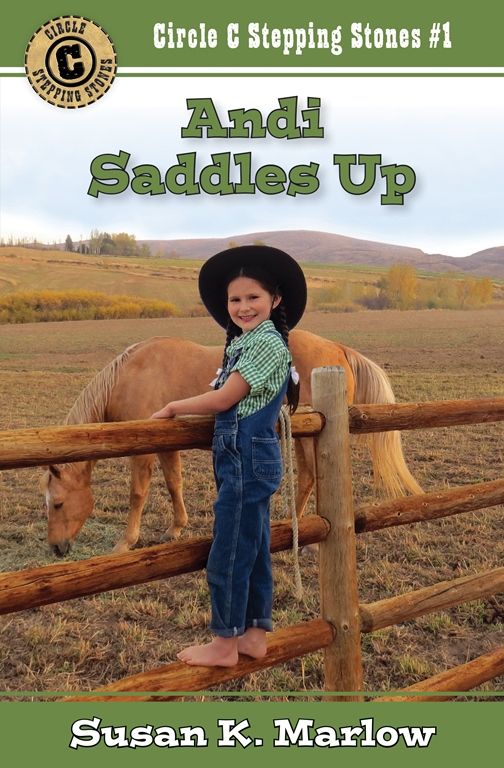 The Books
Written for middle elementary school readers, these books each contain several chapters. Pages have several paragraphs on them.There are illustrations sprinkled throughout, which Ellie really enjoyed checking out.
For independent reading of these books, kids should:
Be excited to read harder chapter books
Easily decode both short and long vowel words
Have a decent sight word vocabulary
Ellie wasn't quite ready to read these on her own, so I read them to her. They made fabulous read alouds! I know she'll pull them off the shelf again when she's ready to tackle them independently.
The Activity Pages
Author Susan K. Marlow has created a plethora of free cross-curricular activity pages to accompany these books. You can download these from her website, and extend your reading experience. Ellie especially loved the coloring pages. I'd print one out for her to color while I read.
My kids all seem to pay closer attention to my reading aloud if their hands are busy!
The activity pages provide many teaching moments. We learned about tack, cinquain poetry, the geography of the fictitious Circle C Ranch, and much more. It's obvious that the author put much thought into these activity pages, and they offer many ways to bring the books to life.
How We Used These Books
Ellie and I settled onto the couch each afternoon and I read a chapter or two. Often, she colored one of the coloring pages while I read.
Once we finished reading for the day, we spent a few minutes talking about the events of the story. Set in the past, on the Circle C Ranch in California, these books provided a great introduction to the historical fiction genre.
Andi, the main character, is a girl just a few years older than Ellie. As we read, we learned about the adventures Andi had with her horse Taffy. We talked about the word choices the author made. You could really feel the emotions that Andi was dealing with throughout the book.
When appropriate, we worked through an activity or two from the activity pages. Many were a bit difficult for Ellie to do independently, so I read her the information and helped her complete the activities.
I loved the connections we made between this text and the world. Andi's older brother shows her a special spot on the ranch in one chapter, and Ellie and I could relate to this. There are plenty of beautiful, special spots on our ranch, so Ellie really understood how Andi was feeling.
My Thoughts on the Circle C Stepping Stones Books
I'm hoping that additional books are planned, because I really enjoyed reading these to Ellie. They are wholesome books for kids, so I didn't have to worry about doing any censoring as we read.
There are other series featuring the same characters, and some are designed for earlier readers. I'm planning on surprising Ellie with those for her upcoming birthday!
These are books I'd definitely read aloud again, and would encourage my kids to read them independently when they're ready.