When I was in high school, my favorite class by far was the one where I got to walk over to the elementary school and spend an entire period helping in a second grade classroom. I completed two years of this vocational course. The hands on experience helped me prepare for my career in teaching, and solidified my dream to become a teacher.
Now that Jayme's in high school, I've been pondering how to get her a similar experience, in her chosen career field. Then I received a copy of Internship for High School Credit by Apologia Educational Ministries. Its definitely helped me think through the process of giving Jayme high school credit for interning.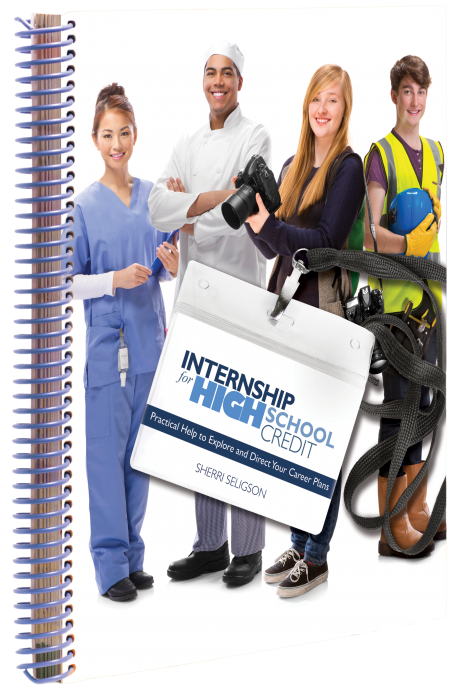 What's Included?
The spiral bound book is packed full of information relating to internships. Much of the book is written directly for the student, so high schoolers can really learn what an internship is, and how it can be beneficial. As they read Part I, students learn:
How to create a resume
What a letter of introduction is and how to write one
Interview tips
How to prepare for the first day
Part II contains loads of information for parents. It provided insight on child labor laws, documenting internships on transcripts, and how to use the included worksheets to grade the course.
Parts III and IV contain the heart of the book, worksheets for the actual internship. Part III covers the first semester of an internship, and Part IV covers the second semester.
I was impressed by the quality of worksheets, and the scope that they covered. There are pages to set goals, track hours, write down questions for the employer, activities to complete each week, and performance trackers for the supervisor to fill out.
Part V concludes the course. It encouraged students to send ask for a letter of recommendation, send a Thank You note to their employer, and complete a couple of other tasks.
How'd We Use this Book?
Currently, Jayme is finishing up her freshman year of high school. The plan (at least for now) is for her to do Running Start her junior and senior years. I'd love for her to complete an internship during one (or both) of these years.
So, our primary use of this book right now was to use it as an information and inspiration source. It really got our brains thinking about possibilities.
Since we live in the middle of nowhere, a traditional internship likely isn't going to work. There would be too long of a drive required. But, since Jayme plans on being a graphic designer, I've been thinking of ways to make a virtual internship happen.
After reading this book, I feel so much more confident in my ability to pull it off. And that's exciting!
By the way, if you're a graphic designer and are interested in working with a high school student on a virtual internship, please email me! She'll work hard for you! 😀
My Thoughts on Internship for High School Credit
I really enjoyed the scope of this book. It contains everything I need to document credit for an internship, and walks me through the process.
Everything Jayme needs is there as well. I appreciate how it walks the student through the process, and points out why completing an internship is a good idea.
I'm looking forward to implementing this book when the time is right!
To check out what other families thought of Internship for High School Credit, or another product from Apologia Educational Ministries, How to HOMESCHOOL with Stunning Confidence, Contagious Joy, and Amazing Focus, please click the banner below.