I had the pleasure of reviewing Everyday Cooking from Everyday Homemaking. More than just a cookbook, you'll find crucial information that too many people have forgotten about. Information about meals not having to be Pinterest perfect, kids helping in the kitchen, and how to round up when you're budgeting your shopping list.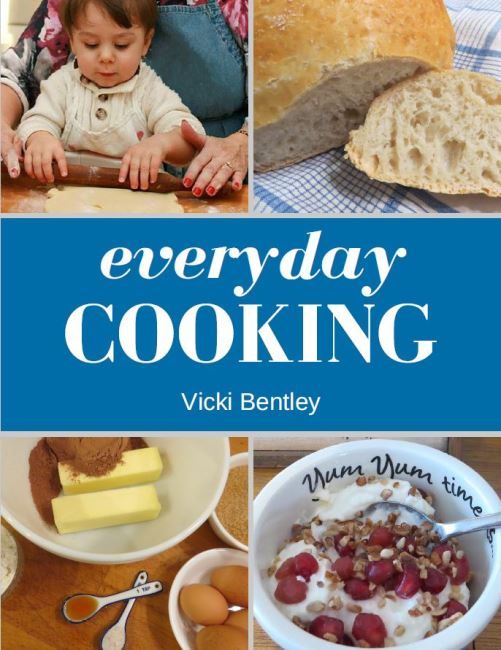 What's Inside?
This book is like taking a home economics course devoted to cooking. You'll find:
Tips for Making Measurements
Suggestions of Ways to Find Time to Cook
A Cooking Skills Checklist
Hints for Meal Planning
Sample Meal Plans
Ideas for Using a Pressure Cooker
Dozens of Recipes with Simple Ingredients and Preparation
I really enjoyed reading through this information. It felt like chatting with an older woman and gleaning tons of insight. I'm sure my Grandmothers would have made many similar recipes in their kitchens!
Throughout the book are little tidbits, such as suggestions for using leftover cooked chicken. Little hints a mentor would share over a cup of tea.
How I Used This Book
I read through the cookbook and tried some of the recipes. After I read it, I realized what a gold mine it is. I'm going to have Jayme work through the cooking skills section over the next few years. I'll also continue working with the younger kids on their cooking skills. Being able to prepare a healthy meal is an important skill for everyone!
Since I was reviewing this while working out our annual meal plan, I tried quite a few of the recipes out. Several have made it into our plan for the year!
Recipes I Tried
One of my favorite recipes was Sausage-Cheese Balls. I first tried these when we were living in San Diego and a friend made them as a snack for Bible study. They were really good!
But I'd kind of forgotten about them. Seeing this recipe in the appetizer section sparked my memory, so I mixed them up for a family snack one afternoon. With just four ingredients, it was simple to prepare.
Here are the sausage cheese balls ready to go in the oven.
And here they are after baking. They were delicious!
Ellie thought they were a bit dry, and asked if she could dip them in syrup. All the kids thought that was a good idea! So I gave them a small drizzle.
Super good, and sort of reminded us of a breakfast sandwich with the biscuit, sausage, cheese, and syrup!
I also tried recipes in the Breakfast Ideas, Bread and Grains, Main Dishes & Soups & Sides, and Desserts & Snacks sections. Every recipe I prepared was simple and delicious.
My Thoughts
In case you couldn't tell, I would highly recommend this book! If you're in need of a cookbook for a recent graduate or newlywed, this would make an awesome gift. In fact, I'm planning on picking up a physical copy of this book to give my oldest before she graduates.
Special Discount
Vicki Bentley, the amazing woman behind Everyday Homemaking is offering a special discount on both the digital and physical copies of her books. By using the coupon code TOS10books you'll save 10% of your entire order. This offer is valid through September 5th.
To see what other families through about Everyday Cooking, or another product from Everyday Homemaking, The Everyday Family Chore System, please click the banner below.