This post may contain affiliate links. If you click through and make a purchase, I may receive a small commission at no extra charge to you. You can find my disclosure page here.
With a master's in elementary reading and literacy, I really enjoy exploring literary resources. I've enjoyed usingThe Bears on Hemlock Mountain E-Guide from Progeny Press. It's perfect for lower elementary aged students.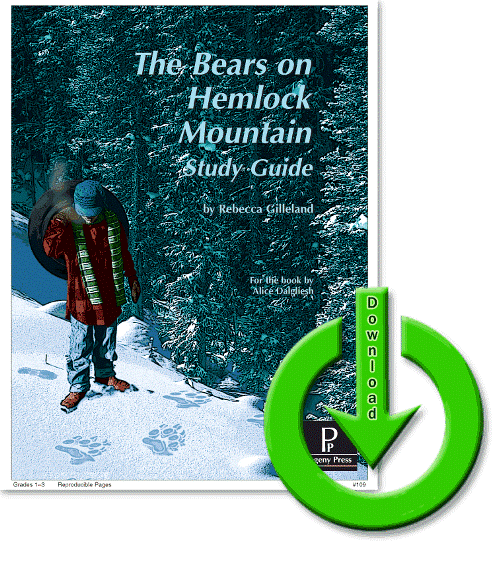 What's Included?
The downloadable E-Guide contains 34 pages. It's designed to help kids dive deeper into the book The Bears on Hemlock Mountain by Alice Dalgliesh. You'll find:
A synopsis of the book.
Information about the author.
Background information explaining the origins of this story.
Pre-reading activities.
Vocabulary and Discussion questions for each chapter of the book.
Scripture integrated throughout the questions, encouraging students to draw truths from God's Word.
A puzzle formatted study guide.
Post-reading activities.
Suggestions for further reading.
Answer keys
How Did We Use This?
My second and third graders worked through this with me. We utilized it in a group setting, completing most of the work orally. This worked better for my learners. The guide is recommended for grades 1-3.
In my opinion, the questions and the amount of space provided for writing the answers are most appropriate for a typical third grade student. But, by discussing the majority of the questions orally, it was a good match for my kids.
The pre-reading activities were our favorite component thus far. We talked about the differences between mountains and hills. A trip outside allowed us to search for and examine animal tracks.
We found an abundance of chicken and cat tracks. There was also one we believe belonged to the skunk that's been spraying at night and trying to steal our chicken eggs!
Bears have been on our property before, and we spent some time discussing safety in the woods. We discussed the importance of being aware of your surroundings and always paying attention when you're out in the woods.
The Chapter Work
As we read each chapter, we completed the corresponding pages in the study guide. We made some index cards for the vocabulary words, and the kids drew some pictures to explain their meaning.
When we finish the book, we will complete the puzzles and select a post-reading activity or two to complete. After reviewing them, I'm pretty sure the kids are going to pick the dramatic play acting and the bake sugar cookies activities.
It's so much fun to act out stories!
We may even bring the hospitality from the book into our post-reading celebrations, and invite some neighbors over to enjoy the cookies with us and watch the play of the story.
Suggestions for Further Reading
Near the end of the study guide, there's a list of additional books to read. I discovered the author of The Bears of Hemlock Mountain also wrote three other books we have, The Thanksgiving Story,The Courage of Sarah Noble, and The Fourth of July Story. I'm thinking an author study is in order, especially since we're studying American history this year and two of those books focus on US holidays. 😀
Other suggestions included books set in similar time periods or settings as The Bears on Hemlock Mountain.
What I Thought of the E-Guide
I really enjoyed the creativity of the pre- and post-reading activities. The discussion questions used a variety of thinking questions to ensure comprehension. I liked the verses throughout the guide, and didn't feel they were forced or far-fetched trying to make connections.
I do wish the chapter based activities were more creative. We are almost done with the book, and the questions just require you to write down an answer.
Using a bit of creativity of my own, I was able to add these elements for my kids. For instance, in the Chapters 3 & 4 section, one question asked, "What does it mean to sit "as still as still"? Instead of having the kids write an answer, I had them demonstrate.
It would also be nice if each chapter's vocabulary and questions were separate. Currently, you'll find the material for chapters 1-2 together, and each section covers multiple chapters. Since we typically just read aloud a chapter a day, it took time for me to figure out which questions to ask each day.
Do I Recommend Progeny Press E-Guides?
Yes!
Even though I didn't teach through this exactly as written, I loved much of it. I can see myself using these guides for additional books. In addition to lower elementary aged material, Progeny Press also offers study guides for books through high school.
You can learn more about the study guide I reviewed, and read reviews focused on the other levels of material available from Progeny Press by clicking on the banner below.