A couple of my kids have been enjoying boosting their reading skills with Reading Eggs. We were given a six-month subscription for two kids to review.
After looking over the options available, I decided to sign up my third grader and kindergartener. It was a hard decision, as the program has activities for children in preschool through sixth grade! I could see how many of my children could benefit from Reading Eggs.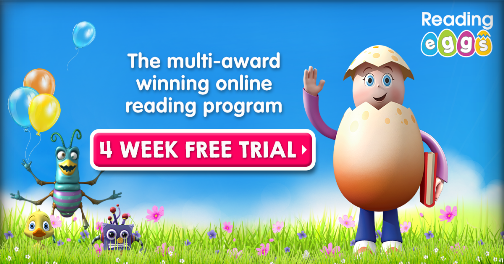 How We Used Reading Eggs
Reading Eggs starts with a placement test to see which lessons will be best for your student. I appreciate this, because it allowed my kids to work on what they needed to work on, and skip what they had already mastered.
Then, a couple of times a week both kids played for a little while. Occasionally we ran into glitches, but I'm pretty sure they're just from our lousy internet connection. None of the other families reviewing this program seemed to experience them. One of the downsides of living in the boonies!
Each time the program glitched, the kids were stuck in a game and couldn't move on. But, after we logged out and logged back in, it started working again each time.
My kids enjoyed the games. But, I preferred the offline activities. From the family dashboard you can access TONS of printable lesson plans, worksheets, and coloring pages.
The Family Dashboard
After you log in, you'll find your dashboard. Then most of the goodies I enjoyed are found in the "Bonus Material" section.
The homeschool lesson plans there were impressive. They have grades K, 1, and 2 available! These lesson plans cover all the basic subjects, and include a variety of printables, activities, and games. They offer lots of learning fun with no planning!
In addition to lesson plans, you'll find printable coloring pages for each letter. These are fun, but took a lot of ink! I could have done without the colorful border, especially since I've got a black and white printer.
I printed several of these worksheets and had the middle kids play school with my younger crew. Simon loves writing the letter S for Simon!
The Online Activities
While engaging with Reading Eggs, your students will do a variety of activities. There are digital books to read, games to play, and quizzes.
The activities work together to support reading progress. Each seemed age appropriate for the grade level it was designed for.
There is an arcade, where students can play reading games and earn egg points. I had my kids skip that part. I like how flexible the program is, you can pick and choose what works for your kiddos!
The student dashboard makes it easy for students to jump right into their lessons. They don't have to try to remember which one they're on (which is good because I'd never remember!!) They can access any of the levels of Reading Eggs, so you'll have to make sure they get into the right one.
The Levels
A Reading Eggs subscription includes access to:
Reading Eggs Junior (Preschool)
Reading Eggs (learning to read)
Reading Eggspress (reading skills and comprehension for kids who already know how to read)
MathSeeds (a math area for kids aged 7-13)
My Thoughts About Reading Eggs
I really enjoyed the offline portion of this program! The game portion wasn't a fit for our internet, but the kids did enjoy using it. I just didn't like the wait time. It made me feel like we were running dial-up!
But, even with the problems we encountered, my kids are definitely making progress in their reading skills. So that's a win in my book!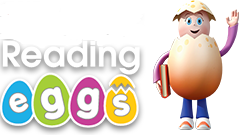 To find out what other families think of Reading Eggs, click on the banner below. Remember you can claim a
free four-week trial
if you'd like to see how it works for your children!