10 People
3 Generations
1 House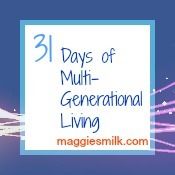 <div align="center"><a href="https://maggiesmilk.com/31-days-of-multi-generational-living/" rel="nofollow" title="Maggie's Milk"><img src="http://i952.photobucket.com/albums/ae5/listatannerwriting/31%20Days%20_zpsqolpo9ub.jpg" alt="Maggie's Milk" style="border:none;" /></a></div>
Welcome! You've reached the landing page for my 31 Days of Multi-Generational Living.
I've accepted the challenge set by 31 Days, and will be posting every day in October on this topic. I hope you'll come back frequently to read my latest post.
Why Did I Pick This Topic?
Other than a brief mention or two on my blog, I haven't talked much about Dad living with us.
When I was brainstorming a topic to write one for 31 days, I kept coming back to the numbers. 10 (people) X 3 (generations) + 1 (house) = 31. I think it was meant to be!
In reality, I'm hoping to share some of the tips I've learned. Dad moved in late December 2014, so I have almost a year of multi-generational experience to share.
With 10 people living here, we've been creative in making room and space for everyone.
I'll start with the story. Click on Day 1 below to read it.
This list will keep expanding every day.
If you have any specific questions about multi-generational living, be sure to comment, and hopefully I'll be able to answer it in a post this month!
Day 1: 10 People, 3 Generations, 1 House: The Beginning
Day 2: Making Space
Day 3: Making Room in the Kitchen
Day 4: Making Room in the Bathroom
Day 5: Making Room: Storage
Day 6: Preparing for Multi-Generational Living Part 1: Talking to Your Spouse
Day 7: Preparing for Multi-Generational Living Part 2: Age Appropriate Ways to Talk to Your Kids
Day 8: Preparing for Multi-Generational Living Part 3: Talking to Your Parent
Day 9: Homeschooling in the Multi-Generational House
Day 10: 5 Laundry Tips for a Multi-Generational Household
Day 11: Food in the Multi-Generational Household
Day 12: Benefits of a Multi-Generational Household
Day 13: 3 Challenges of Multi-Generational Living
Day 14: Leaving the Light On
Day 15: Celebrations in a Multi-Generational House
Day 16: Chores & the Multi-Generational Family
Day 17: The Farm & Multi-Generational Living
Day 18: 4 Ways Kids Benefit From Multi-Generational Living
Day 19:Encouragement in the Multi-Generational Household
Day 20: Owen's Surgery & Multi-Generational Household
Day 21:An Owen Update & Fixing the Hot Water Heater
Day 22: Computers & the Multi-Generational House
Day 23: 10 People, 1 Bathroom: Tips for Making it Work
Day 24:Light Up the Park, Chewelah
Day 25: Firewood in a Multi-Generational House
Day 26: Newspapers & Mail in the Multi-Generational House
Day 27: Phones & A Multi-Generational House
Day 28: Minding Your Own Business in a Multi-Generational Household
Day 29: Shopping in a Multi-Generational Household
Day 30: It's the Little Things