My kids have enjoyed working on their reading skills while playing the Phonics Museum App from Veritas Press.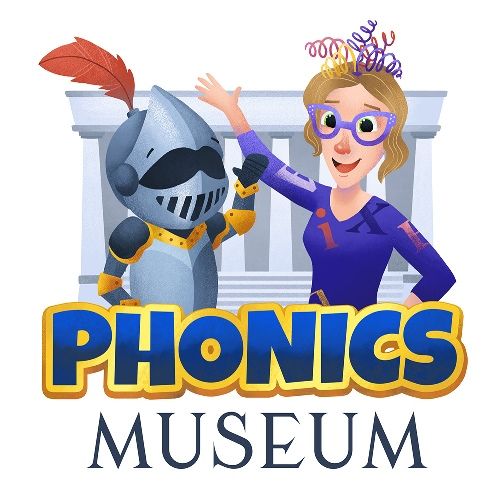 Designed for kids learning to read, a subscription to the Phonics Museum App allows you to create student accounts for three students. But, first you'll need to download it to you iPad or iPhone from
iTunes
. I had some trouble with this phase of the process. The file was large, and took a long, long time to download over our metered plan.
It took so long it eventually stalled. I waited until I was out and about one day, with access to free wi-fi, and finished there.
Once I got it on the iPad, it was a simple process to set up an account. I created accounts for my:
Five year old
Seven year old
Eight year old
My four-year old played occasionally on one of the other kids' accounts.
The kids were a bit disappointed in the selection of avatars, but they finally each picked one. My five-year old started first.
What the App is Like
The app takes early readers through a solid introduction of phonics. Set in a museum, Miss Biddle and a knight Percival take students through each of the ten floors. Along the way, students dive into pictures to learn more about each part of phonics.
For instance, while learning about the letter A, there's artwork featuring an apple. The letter P has a pig, and so forth. Inside each picture, students work their way through numerous video clips, games, and activities. There are over 900 activities in all, though we haven't yet completed nearly that many.
The letters are not taught in alphabetical order, in order to set children up to read words quickly. For instance, the letter A was followed by the letter M.
What My Kids Thought
My kids really enjoyed playing the Phonics Museum App. Whenever I'd let them have some screen time, they selected this game. It was appropriate and engaging for the learners I had use it. They each played about three times a week, for about twenty minutes.
Here's what they thought when I asked, what was your favorite part of the Phonics Museum App?
"When I got to practice writing letters."
"Playing the games, like the puzzles."
"The letter song."
What We Didn't Like
After this app took forever to download, I assumed all of the videos and other components had been downloaded. But, I was wrong.
This app is very video based, and often we had to stop playing for a while until our internet sped up. (Our speed fluctuates throughout the day…)
The kids were frustrated when it stopped to buffer yet again. There is no way to skip the video pieces, so we just had to wait.
Not being able to skip over pieces was my biggest complaint about this app. All three of my kids had to watch the identical opening video. If we closed out because of the internet problems, we had to restart it at the beginning. By the time the third child got through, I definitely was frustrated. I just wanted a SKIP button!
I also didn't like the email bombardment. I'm sure with only one child going through the program it wouldn't be so bad, but multiply every email by three, and it really adds up. Especially since I was paying attention to what my kids were doing on the app, so I already knew they had finished the letter M activities, or were so close to learning the letter P.
The emails did seem to slow down a bit the further we got, which I appreciated. And I'm sure they'd be beneficial for some parents, or for some homeschooling records.
Would I Recommend This Program?
My kids really enjoyed playing the Phonics Museum App. It was engaging and they are learning from it. But, it's definitely not intended for anyone with metered internet.
So, if you live in town and have actual unlimited high-speed internet to connect your devices to, I would strongly recommend it. If you're like me, watching your gigs and tiring of seeing the loading symbol not moving, you should probably pass on this.

Want to hear what other families thought of the Phonics Museum App? Click on the banner below.