Created to provide auditory feedback to people with attention difficulties and speech/language problems, Forbrain from Sound for Life LTD is a headset designed to be worn by people ages 4 and up. Since a couple of my kiddos have some minor speech issues (and I have a lingering lisp myself, which is especially noticeable when I'm tired), I was excited to review this product.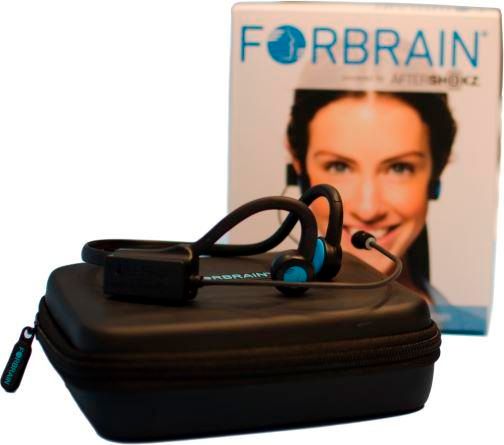 What Is Forbrain?
The device arrived with a good quality zippered carrying case. It included:
The battery powered headset device
A charging cable
Extra covers for the microphone end
A guide with suggestions on how to use the product
The headset doesn't go in your ears like traditional headphones. Instead, it rests on the bone in front of your ears. Once it's turned on, you adjust the microphone and start speaking.
You can easily hear yourself!
I thought of all kinds of uses for this thing…
How Did We Use Forbrain
Initially, I had my early readers use the device to hear themselves read. As they listened to themselves, they more easily self-corrected mistakes. It's like they had a better handle on using the, "Does that sound right?" help for reading.
It also helped them with reading comprehension, something that one of my children struggles with after reading aloud.
To use, I just had them put on the headset, and then start reading aloud. It was simple to use, and easy for the kids to get used to. It's recommended that kids use it for 10-20 minutes twice a day. Adults can use it for up to 30 minutes twice a day. My kids typically used it for 10 minutes at a time.
I also had my four-year-old give it a try for a while. Though I was skeptical that it could fit a small head, it actually fit pretty well. He has some pronunciation problems, and I was hoping this could help. He really enjoyed using the device, but he didn't use it often enough for it to make a noticeable difference (you can see why below…)
I also tried the Forbrain, but for a different purpose. I often find myself reading and having no recollection of what I read. Since this device is recommended for memory and retention, I thought I'd give it a try. I used it during my morning Bible reading, and must say I enjoyed listening to the Word. I paid closer attention and my mind didn't wander as much as normal.
And, I also was better able to pick up on my lisp. It helped me become aware of sounds I still struggle with, and work to correct them.
I had plans to have my husband use this too. He's been doing some more preaching at church, and will be doing even more speaking as we hit the road on deputation. I thought it'd be a good way for him to hear himself and practice.
But, before he gave it a try, something happened.
Static!
I went to use the Forbrain one morning, and noticed static. I turned it on and off again, and still only got static. So, I thought maybe it needs charged.
I left it charging and tried again later. Still static.
Thinking it was just me, I had a couple of the older kids try for me. They only heard static too.
So, I contacted the company.
They have a convenient form on their website for letting them know of any malfunctions. I filled it out, and the next day got an email asking for some additional information.
I sent back the information and waited.
Just over a week later, I received an email with instructions to mail the device (without any accessories) in a padded envelope to the company. They're going to test it and send me a replacement.
I must admit, I'm looking forward to getting the replacement. This has been a really neat device, with so many possibilities! If you have anyone with speech, reading, or memory problems, this is definitely something to consider!
To see what other families thought of Forbrain, click on the banner below: